Laptops/Notebooks are now fantastic portable computers. offering high performance with longer battery life than a few years ago.
Our business laptops are designed around security, to help prevent data leak scenarios, which are business damaging both from a reputation and legal point of view.
Why our Notebooks?
The modern PC industry is based on production of systems in low cost environments, using mass produced components, to a carefully specified design, made a few months before shipment, with disk images of software sometimes woefully out of date by the time a consumer plugs it in.
For this not to be a serious security problem, many updates need applying before the machine is exposed to the internet. This can sometimes take up to a few days to complete and requires knowledge of what to do.
When we supply a computer we take the risk and difficulty out of this process as:
We pick good systems from the thousands of specifications available. We don't sell underpowered, cheap, low lifespan systems.
We un-box, test and update systems.
Junk files and apps are cleaned up and the machines optimised.
Machines are made ready to use immediately on the rather un-safe place known as the internet.
While we are not the cheapest if you compare prices to internet box shifters; you will get a safer, better machine from us, along with after sales support from a local company.
15.6″ Home Notebook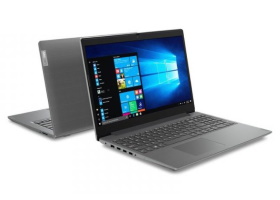 Lenovo v155 15.6″ home notebook
Good home machine with full HD display.
AMD Ryzen 3 -3200U dual core with 2 threads per core.
4 GB DDR4 RAM (1slot free,max 16GB)
240GB SSD 5-10 times faster than a spinning drive
1920×1080 TN FHD, 2xUSB3, HDMI
Gigabit ethernet,Wireless a/c/n
Configured with updates and pre-optimised.
Windows 10 home
5hr battery runtime, 2.2kg
fast laptop with larger than standard SSD is great for home use.
Extra 4GB RAM £30 inc VAT
£415.84+VAT = £499 inc. VAT
in stock 28/5/20
14″ Business laptop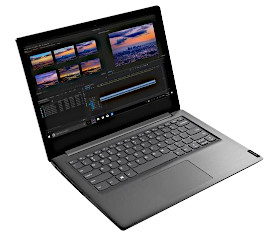 Lenovo V14 business laptop
Good spec. light 14″ business class laptop, designed for security.
Intel i5-1035G1 quad core cpu with HT
8 GB DDR4 RAM (4+4).
Super fast 240GB NVMe SSD storage
TPM chip, for easier GDPR compliance
1920×1080 TN screen, HDMI connector
1xUSB2.0, 2x USB3.1, combo headphone/microphone jack, SD card reader
Gigabit ethernet, Wireless a/c/n, Bluetooth
Intel UHD graphics, HDMI connector for connecting external monitors/projectors/TVs
0.3M pixel webcam, Dolby audio stereo speakers.
Configured with updates and pre-optimised.
Win10 Pro, encrypted and BIOS locked
up to 6hrs battery runtime, 1.6kg,
Secure, fast, light, modern business machine.
£550+VAT = £660 inc. VAT
(in stock 28/5/20)
13.3″ 10th Gen laptop
Lenovo L13 13.3″ high performance
Fast and easily portable, great for travel
Intel i7 10510u quad core HT cpu
16 GB DDR SDRAM, 480GB NVMe SSD,
TPM chip, for easier GDPR compliance
2xUSB3.0, 2×3.1 (type C)
Gigabit Ethernet (nneds adapter), Wireless A/C/N, BTooth, Mini-SD card reader
Intel HD graf., 1920×1080 full HD IPS screen, HDMI
Configured with updates and pre-optimised.
Win10 Pro, encrypted and BIOS locked
Up to 14hrs battery runtime, only 1.38kg,
High spec. Light, thin, secure business machine
Hands on Video of other model in range here
£899+VAT = £1078.80 inc. VAT
(orderable)
---