Alongside our services we also sell good quality PC hardware.
Why a new monitor?
Modern monitors are both thinner and bigger than those even a few years ago.
They use less energy and are now incorporating filters for blue light and enhanced viewing angles to make looking at your monitor for extended periods of time a less tiresome task.
Here at Fast and Easy computers we have in stock a range of premium monitors from reliable brands.
We normally stock larger size screens as these are now best value, but if you can't see what you want here we can get most brands and specifications to order for next day.
Full HD TN 21.5″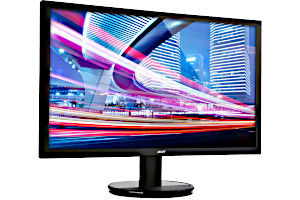 Acer K222HQL
Full HD Monitor 1920x 1080 resolution (60Hz)
15 Pin DSub + DVI Connectors
16:9 ratio (widescreen), 5ms refresh
90° horizontal, 65° vertical viewing angle
100,000,000:1 contrast ratio, 200 nits
H:W:D 304.5mm x 508mm x 52mm
21.5″ LCD Full HD Display
2 year Acer warranty
Brightness: 200cd/m2
£65.83+VAT = £79 inc. VAT
Excellent 21.5″ IPS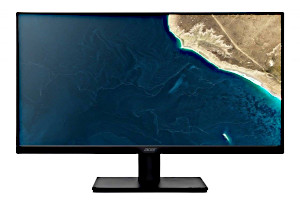 Acer V227Q
Full HD Monitor 1920x 1080 resolution (60Hz)
15 Pin DSub + DVI + HDMI Connector
16:9 ratio (widescreen), 4ms refresh
178° horizontal, 178° vertical viewing angle
1,000,000:1 contrast ratio, 200 nits
height 295mm, width 490mm
LED backlit HD IPS panel
3 year Acer warranty
Bright, slim, modern IPS display
£79.16+VAT = £95 inc. VAT
Stunning HD IPS 24″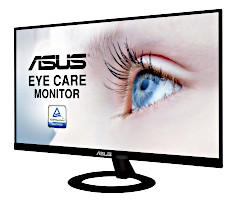 AsusVZ249
Full HD Monitor 1920x 1080 resolution (60Hz)
15 Pin DSub + HDMI Connector
16:9 ratio (widescreen), 5ms refresh, VA
178° horizontal + veritcal viewing angles
3000:1 contrast ratio, 250 nits
H:W:D 540mm x 323mm x 37mm
Ultra thin LED IPS superbright panel
Edge to Edge Display
High quality 24″ monitor
£112.50+VAT = £135 inc. VAT
---