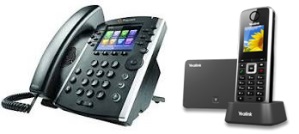 Want a phone system with great features, cheap calls and flexible options?
Voice over Internet Protocol (VoIP) phones offer a good solution.
Basically your phone system runs off an internet connection, so you can have multiple lines and extensions running off one inwards connection. This is both flexible and cost effective.
We can provide the phones, the connection and program it all up for you, to make it work.
Contracts start from 1 year long, with both new and refurbished equipment available.
Give us a call on 0161 483 6656 to discuss you requirements.